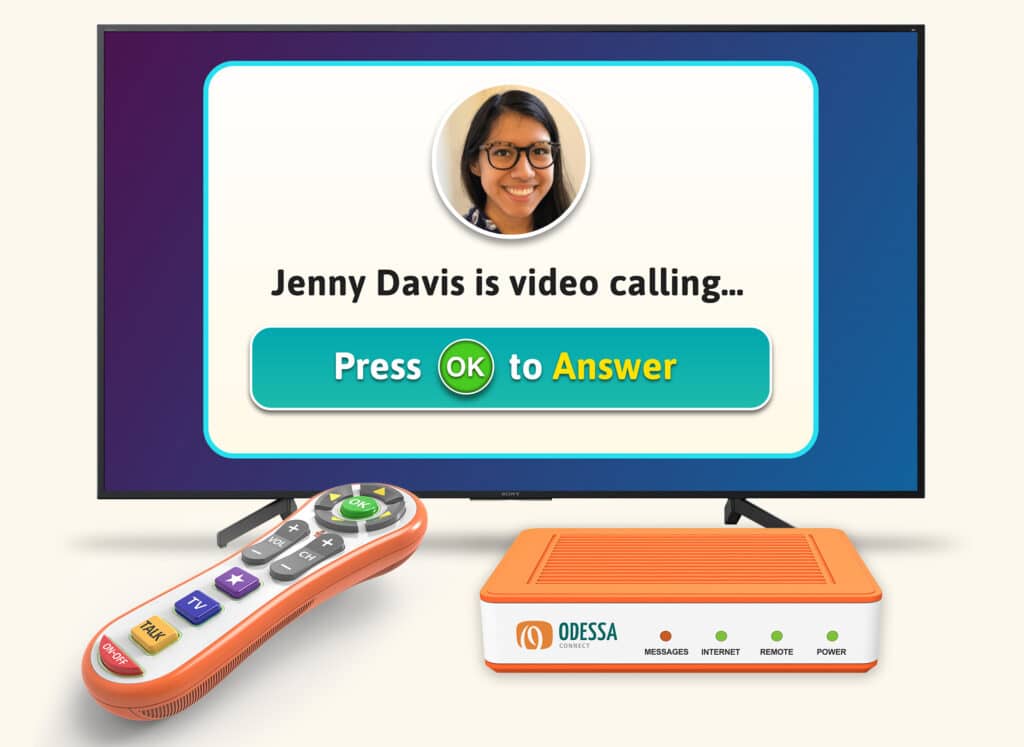 Solera Senior Living is pleased to announce that it has selected OdessaConnect to provide efficient and safe in-community technology solutions for residents, staff and families for several of its flagship communities across the U.S.
Headquartered in Louisville, Ky., OdessaConnect has pioneered TV screen-to-computer functionality through proprietary hardware and software that offers a wide range of features with no need for third-party applications, downloads, passwords or accompanying digital devices. This is especially important as the primary audience for the technology is seniors, whose familiarity and comfort level with computers, smart phone and the Internet varies greatly.
"Solera places great value in the role of technology in helping the residents in our trusted communities to live exceptionally," said Jamie Ranzan, President and Principal of Solera Senior Living. "We feel the OdessaConnect platform will be beneficial not only to our residents, but to their families and to our staff as well. This partnership is just the latest example of our commitment to identifying and implementing technology that helps to differentiate the Solera experience from anything else in the senior living industry."
OdessaConnect's goal is to reduce social isolation and loneliness in the aging population through a technological experience that is intuitive and non-threatening. To achieve this, it has created a platform that is housed on a device that is familiar and comfortable to most everyone – the television. The key to OdessaConnect's user-friendly environment is the OdessaConnect Remote, which controls most major television brands and cable or satellite boxes, allowing users to navigate quickly and easily through OdessaConnect and other content.
The OdessaConnect Remote was designed in collaboration with geriatric specialists and field-tested with senior audiences to gain insight into how seniors use technology and to identify issues that create frustration and cause them to discontinue using devices. The outcome of this research led to the design of a remote that is brightly colored and easy to hold and operate with tactile buttons that let the user control a television or navigate OdessaConnect seamlessly.
The OdessaConnect Remote is voice activated, allowing seniors to issue voice commands such as "show me my photo album" or "tell me about the weather outside". And with one click of a button, they can send a voice message or hop on a video call with family, friends and caregivers. They can also receive texts, messages, photos and YouTube links from loved ones directly on their television screen, without worrying about applications, downloads or passwords. Best of all, the private system prevents any spam, junk mail or robocalls, allowing only those who have been approved to join.
While residents of senior living communities take advantage of countless features from OdessaConnect, the staff of these communities are also able to utilize a number of time-saving tools. The Community Broadcast function lets staff deliver important messages to residents and families quickly and conveniently from a single dashboard. The Calendar Builder publishes activities, with time and location, to resident televisions and can be printed using a branded template. The system also allows for attendance tracking, newsletter and dining menu building, feedback surveys and even digital signage.
"We are thrilled to have the privilege of bringing our OdessaConnect technology into Solera's exceptional senior living communities across the U.S.," said Todd Smith, Founder and CEO of OdessaConnect. "We spent more than three years learning everything we could about how seniors think and feel about technology and are pleased to have designed a digital experience just for them. From fonts, colors and contrast to density of information and ease of navigation, every component has been optimized for the senior user."
OdessaConnect will be available at Solera communities including Modena Cherry Creek (Denver, Colo.), Modena Reserve at Kensington (Kensington, Md.), The Reserve at Lake Austin (Austin, Texas) and Trulee Evanston (Evanston, Ill.).